Introduction
2nd edition, the 25th and 26th of May 2013.Registrations are open !
View the track with Open Runner : click here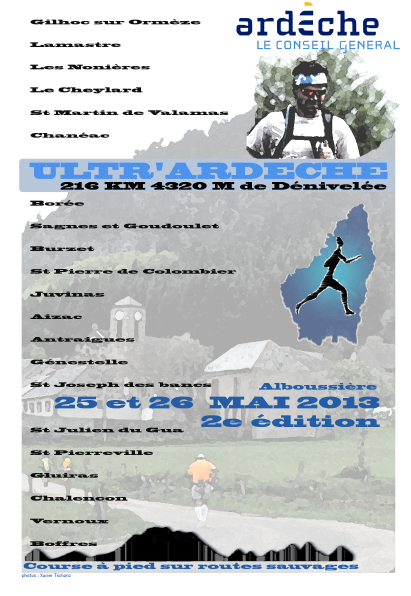 Actu / News
2nd of January
The race comittee of l'Ultr'Ardèche wish you the best for this neww year, May 2013 brings you wellness and happiness.
As for our race, we wish you to accomplish your dream : be on the start line, be a finisher, win or following us live or IRL by being part of the helping crew.
3rd of December
Your inscriptions fee will be withdraw in march 2013.
9th november
Added .... The "race note"
from Guilhen
, 6th of 2012 run
7th novembre
If you are interested by an overview of the roads, some days before the race. Contact-us. A join run may be organized with other runners.
6th November
vidéo 2012 :
http://www.youtube.com/watch?v=htOyF8lFNkU
, merci Pierre
Nous avons encore besoin de bénévoles, faites vous connaitre pour participer à l'aventure
5th November
Some runner webpage telling ther own race
have been compiled as a pdf
(french) +
along with a guest book

1st November
Only 30 bibs left
2 small buses between Valence TGV railway station and Alboussière will commute first at 14h30 last at 17h. Friday the 24th of May
---